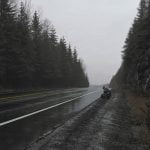 Fiction – Non-Fiction may be Olivier Alary's debut album under his own name for the Fat Cat / 130701 label, but that does not mean it's his first work. The French (now Montreal-based) composer has previously released music as Ensemble (on Aphex Twin's Rephlex label, among others). Those releases grabbed the attention of Björk, for whom he later worked as a remixer and co-composer.
Fiction – Non-Fiction is a compilation of previously unreleased work for film soundtracks he composed in the last five years: music for 'China Heavyweight', 'Up the Yangtze', 'Jo pour Jonathan' and 'Corbo'. In addition to this soundtrack material, there are two variations of the minimalist Pulses: one for percussion and one for wind instruments.
Coming from soundtracks mainly, it's no surprise that the music is highly cinematic – especially since Alary can work with large ensembles, film orchestras, a string quartet, saxophonist (Erik Hove), pianist and arranger Johannes Malfatti, and many, many other musicians.
The result is a lush, organic sound – and a remarkable variety of styles: piano solo pieces (Arrivée, Qin), modern classical compositions (Juanicas, Canon, Flooding), polyrhythmic minimal music (Pulses), pieces on par with the best of Johann Johansson and Max Richter. Ánd even some real ambient drone pieces like Khaltoum – and (my personal favourite track): Epilogue, closing the album with a floating choir slowly fading into silence.
The desolate album cover image may suggest otherwise, but the music on this album represents many different moods and styles. Definitely one for the list of favourites!
As a bonus, here's an exclusive track for you to enjoy (nót included on the album).
Piscine is a short track in line with the other ambient pieces on the album:

OLIVIER ALARAY – PISCINE (NOT ON ALBUM!)
---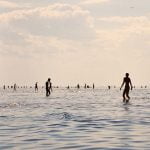 There are only a few releases on the Serein label every year, but íf they decide to release a new album it's a safe bet it 's worth investigating!
He She Them Us is their first title for 2017. It's the debut release of the oddly named 'Selffish'  (Andrejs  Eigus from Riga, Latvia). His  debut for Serein, that is: Selffish previously released two full length albums on the Thinner netlabel in 2002 and 2004, which can still be downloaded from Archive.org.
The inspirations for He She Them Us  came from the countryside around the city of Riga, where Andrejs often went to find solace in its stillness and beauty, and where he recorded the field recordings that he later used to recreate these moments of reflection.
"Each time I went to visit a secluded corner of nature outside my hometown, I usually felt a strong desire to produce music. Especially when hearing the sounds again at home."
Like many other releases on Serein,  He She Them Us is a hard to categorize because it merges many different things. There is plenty of ambience, field recordings and electronics (the label info recalls music from labels like Mille Plateaux, Raster Noton and City Centre Offices). On top of that there's the carefully balanced live instrumentation (grand and electric piano, double bass, bowed strings, saxophone and guitar) adding a jazzy, warm, and loungey touch. and played with a perfect sense of detail.