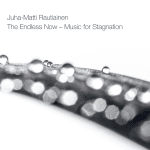 Sometimes Art flourishes on imposed restrictions.
Finnish bass-player Juha-Matti Rautiainen can tell you all about this: he cut the tip of his right index-finger in an accident on New Year's Day in 2014. Pretty disastrous for a professional bass-player playing over 15 years on stage and in various bands and various genres.
But Rautiainen obviously is a man who doesn't accept limitations – instead he took up the challenge: composing and performing live ambient music with his primary instrument, using an array of effect pedals.
"My accident gave me the opportunity to examine the aesthetic of focusing on the present – the moment right now. "
"I think the most intriguing music is born when you set limits to yourself" –  I can almost imagine Brian Eno's smile affirmative here.
The limitation is not only his broken hand, but also the instrument: a bass guitar is not often the instrument of choice for ambient music. "I tried to use my bass guitar as unorthodoxically as possible."
The result: a refreshingly imaginative, 'mindful' album.
But please: do not read this as an invitation to break your fingers or otherwise hurt yourself… It's better to remember this advice from Eno's 'Oblique Strategies": "Honor thy error as a hidden intention"

---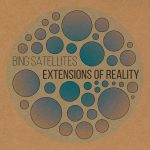 Let's discuss 'prolific'…. The artist known as Bing Satellites (real name Brin Coleman) has produced over 61 albums since 2015 under this name – and that's not counting the releases under different aliases like Blocker, Ghost Harmonics, The Ambient Visitor, The Lovely Moon and probably more.
I can't say I'm really familiar with all of his work, so Extensions of Reality is a fairly random pick – especially when considering that another eight titles were releases (at time of writing) after this particular one from December 2016.
That said, Extensions of Reality is a fine way to start exploring Bing Satellites' catalogue; especially since the download version is a Name Your Price release,
The music on this album is heavily inspired by Brian Eno's generative music concept, sometimes you even hear fragments reminiscing Fripp & Eno's heavenly guitar loops. The three king tracks are built from improvised layers, generative loops with slightly different lengths, so the output is different each time: "they interact in ways that could not be foreseen."
Indeed: think Music for Airports.
So completist collectors: beware!
Think again before you start listening to this album: there may be no way back from checking out many many other releases.
(But then again: most of the Bing Satellites releases are available as a Name-Your-Price download.)
---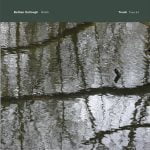 BETHAN KELLOUGH – AVEN
A Touch label release from last year's august that I missed somehow but still want to recommend to those that missed it too.
Reading Aven's liner notes it's clear that field recordings are the main ingredient here: recordings made in Iceland and South Africa. The impressive rumbling sound of 'underground geothermal activity escaping to the surface through a small shaft' gave the album it's title: such shafts are called 'Aven'.
But by augmenting the field recordings with various drones and melodic violin passages,  Bethan Kellough transforms the recordings into a symphonic fantasy, imagining entering unknown underground environments.
If you want to hear one example of how environmental field recordings can be turned into a full-featured symphony, try Aven. 
Bethan Kellough (a.k.a. Bethan Parkes) got the PhD in Sonic Arts in 2015 at the University of Glasgow. She is researching "immersive sound-worlds, spatial aesthetics and the interactions between sonically and visually articulated spaces",  her music "inhabiting the boundaries between music and sound design".

Aven is her debut album release – a live recording, recorded in April 2016 in Los Angeles as part of the Touch Conference.