In two separate vinyl album releases (also available as digital downloads), the Dekorder label presents a beautiful overview of the work of Janek Schaefer, presenting new pieces –  in some cases created by collating existing material.
In his work, Janek Schaefer has always focused on the multiple aspects of sound, exploring it using self-built devices he used to manipulate sounds in thought-provoking installations.
The audio recordings are only one-dimensional representation of his muti-media installations, which are often conceptual and visually attractive.
One of his earliest works (1995) recorded the fragmented noises of a sound activated dictaphone while it was travelling overnight through the Post Office. This piece (called 'Self Storage') was presented on an exhibition where he shared works with artists like Brian Eno and Laurie Anderson.
Since then, Schaefer's many performances and exhibitions have earned him many prizes and awards.
"Unfolding Luxury beyond the City of Dreams", the first album of the pair, contains seven relatively short pieces (ranging from 3 to 8 minutes).
Within the calm atmosphere of these pieces, there are many fascinating sounds to discover. Sounds that come to life even more when Schaefer explains where they came from or what occasion they were created for:
A piece for his brother-in-law composed on the day he passed away ('He had seen the white lights of heavens gatem but returned, and became fascinated by what he called God's divine darkness in lifetime.').
An orchestral drone piece 'featuring an old French lady singing to her cats with an extra celestial chorus'.
"A Carpenters LP piano loop layered again and again over a high sky recording, which was recorded using a helium balloon floating in the clouds over the city, with raindrops".

"The City of Dreams" seems to be reaching all the way up to heaven, with its multiple piano motifs "recorded live with my twin-arm turntable, additional overlays recorded with Mark Robinson on his old family piano."
The closing piece for this album ("Beyond") features a return of the Carpenter's sample, this time mixed with recordings made in "Grand Central Station at closing time when the vast hall was deserted, and the full majesty of the acoustic space could be appreciated. Stillettos pass by forming polyrhythm's, as the last train announces it's departure…"

Janek Schaefer has the gift to present  well-respected serious sound-art with a deep emotional appeal, while not forgetting his relativistic sense of humor.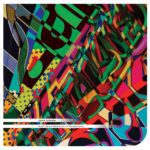 The title of the second album, "Inner Space Memorial in Wonderland", is a combination of the titles of the two pieces included, each taking up a full side of the album with about 20 minutes.
"Inner Space Memorial", created in honour of J.G. Ballard, is a monumental organ drone piece for which -in the original installation- 'a pair of speaker cones were turned around to play back into the void of their cabinets.'
"Wonderland" is the finale piece of Schaefer's "Asleep at the Wheel…" exhibition soundtrack, with location recordings recorded on the footbridge over the M3 (the six lane motorway that was built right in front of his (J.G. Ballard's) home while he was writing Crash and Concrete Island.
Compared to (the somewhat intrusive sound of) side A, this piece reflects the calm of a roadtrip at night: "A single majestic daydream that drives you forwards as reality undertakes you. A work that questions where our culture is heading further down the highway ahead. Ideal music for when you need to stay awake on the road."