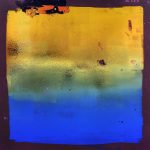 "A collection that holds twelve works for voice and 1/4″ tape" is a description that immediately grasps my attention, especially when the performing artists is "a trained opera singer, delivering an elegant balance between theatrical and ambient sentiments".
"A Turn of Breath" is my first encounter with the work of Ian William Craig.
And after a brief moment of "What-am-I-currently-listening-to!?"-confusion, this quickly turned out to be one of the most surprising releases I have heard in a long time.
The confusion came from the way Craig presents his recordings: a beautiful, well-trained voice, recorded using 'faulty' reel-to-reel devices, overlayed multitracks enhancing the distortion until it becomes like an instrument itself. The effect is mesmerizing and moving in a unique way.
Ian William Craig's private Bandcamp page lists five recent albums under his own name, but "A Turn of Breath" is presented as "his premiere LP": this vinyl album (including digital download) is his first physical release.
At some moments, it sounds like audiophiles' nightmare: the sound of faulty tape-recorders, loose cable connections, a completely worn out needle… all the sounds everyone always struggles to avoid are carefully placed in the foreground here. But behind that, struggling to work its way through, there are the – mostly wordless – voice and choir.
The process of amplifying decay though multitracking resembles the work of William Basinski, but on an emotional level this album is closer to Akira Rabelais' "Spellewauerynsherde" (2004) – which has always remained one of my all-time personal favourites.
So: be prepared and give it a try!

IAN WILLIAM CRAIG – A SLIGHT GRIP, A GENTLE HOLD, PT.1