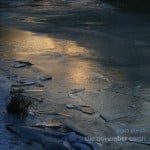 "The November Earth" is Aqua Dorsa's second full album, follow up to "Cloudlands" (2009).
Sadly, it will also be their last: Gianluigi Gasparetti (better known as Oöphoi), died in april 2013.
The album they were working on was finished by his Aqua Dorsa partner Enrico Coniglio and was released later in 2013.
Therefore,"The November Earth" has become a fitting In Memoriam album to remember one of ambient music's finest artist.
The original compositions were created by Gianluigi "Gigi" Gasparetti at various moments: for most basic tracks it is not known when the original source material was created, but some of them have their origins as far back as the 90's.
The basic recordings were 'expanded', working together with Enrico Coniglio, adding extra details and instruments.
But after Gasparetti passed away, this task became increasingly difficult, because Enrico wanted to be extra careful not to 'betray' the original sound.
After letting the material sleep for a while the album was rearranged, and finally it was released later in 2013.
It may be due to the sad story behind this album, but most of the (eleven) tracks seem to have a somewhat dark and foreboding undercurrent. The music is unhurried, meditative, with a mysterious sound that may have its roots in the 90's but at the same time is very contemporary.
The booklet inlay contains a short story by Gasparetti, titled "Sogno di Luce" (Dream of Light).
Unfortunately, I am not able to read that since I neither speak nor read Italian.
So I don't know in what context it is written, but I understand the last words of this text are "Sparisce in un batter di ciglia" – which means "Disappears in the blink of an eye".
Disappeared, maybe.
But not forgotten.
Aqua Dorsa – Cold Tears II