In the Shortlist sections, I will mention the albums that I enjoyed listening to, but couldn't find the time (or the right words) for a "full" review for. Still, I definitely think they deserve your attention, with ór without extra words!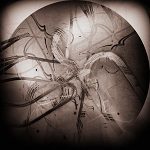 AUTISTICI – ATTACHING SOFTNESS
A collection of detailed microsound pieces including collaborative works with Calika and Henry Duclos. It includes the original full-length version of Attaching Softness to a Shell. About half of the (50 minute) album is reserved for the centerpiece "Attaching Softness to a Shell" (a track that also briefly appeared in the "Dream Calibration" mix from 2009).
"This track amplifies and recontextualises the musicality of natural sounds, setting them in an environment musical and rhythmic flows. At times the track is pure recordings (incorporating the work of Professor Andrea Polli – who extrapolated data regarding hurricanes and used this to generate sound)."

Autistici – Battery Setup in a Forest Clearing
---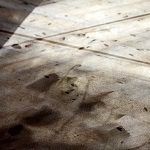 TATTERED-KAYLOR – SOMBRE NAY SATED
Tattered-Kaylor (Tessa Elieff, Australia) presents a short EP with three examples of her commissioned soundscapes. "With three very different original sound sources, this mixture of field recordings, specially recorded sounds, voice, and synthesis merge into tenebrous melancholy as fragments of organic sounds brush up against pulsing synthesis to create a stark, flowing patchwork of multifaceted solemnity."
Free Download from the Stasisfield netlabel.
---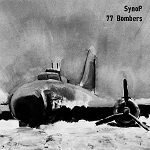 SYNOP – 77 BOMBERS
First thing different on this Synop (Ton Janssen) album it its theme: not many "ambient" music albums are about crashed bombers. The album presentation is another thing: besides ordering it as a digital download or as an eco-carboard packed CDR, you can also order a deluxe personalized copy, with photographs of the paintings by Frans Janssen this music was inspired by: paintings "of crashed bombers which symbolize the ruins and silence after a great loss". The spoken word parts telling the story of the bomber pilot are presented in a male, female and scottish version – with a strange an alienating result.
---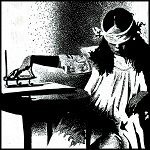 ANDREAS BRANDAL – SEANCE
Andreas Brandal (Norway) has been making music since the late '80's. The sound on "Séance" has a nice retro-scifi feel to it: "an 8 track release which has a filmic theme to it with music that would not be out of place in a Science Fiction movie with an Industrial and occasional ominous feel to it."
---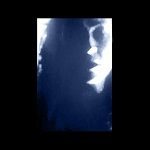 CESTINE – PRESSED
3-Track 37 minute album by duo Dominic Coppola and Theodore Schafer from Ann Arbor, Michigan. Nice, calm, guitar-based drones – no need for any more information than that, obviously…
Generously offered as a pay-what-you-want download.