Since it was founded in 2005, the Denovali label has grown into one of the most important European independent labels, exploring different (mostly experimental) genres.
Apart from releasing new music, they also have a fine taste in finding albums worth re-releasing. Often, the re-releases are paired to the release of a new album by the same artist.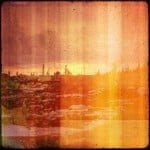 In the case of Origamibiro (an audio-visual collective consisting of Tom Hill, Andy Tytherleigh and visual artist Jim Boxall aka The Joy of Box), the new album "Odham's Standard" is accompanied by the release of a 3CD/4LP package called"Collection", presenting their previous albums "Cracked Mirrors and Stopped Clocks" (2007), "Shakkei" (2011), and "Shakkei Remixed" (2012).
Listening to the Collection box set shows that the debut album "Cracked Mirrors and Stopped Clocks" was based mainly around Tom Hill's guitar sound. It has a comfortable, melodic and intimate sound. Had this been a guitar solo album it would have reminded me of some of the Windham Hill label recordings from the early 80's – but it's the carefully placed additional sounds and sample effects that makes the difference.
Adding the skills of Andy Tytherleigh (double bass, ukulele, banjo, guitar) and Jim Boxall, "Shakkei" (or "Borrowed Landscape") further explores the merging of intricate sounds and effects without losing the music's intimacy. It is a perfectly balanced album on which the music never is what is seems to be. If you want more comparisions: Simon Jeffes' Penguin Cafe Orchestra came to my mind.
Although there is much interesting to be heard in the 17-track remix album "Shakkei Remixed", it also feels somewhat superfluous – the delicately balanced "Shakkei" hardly needed any further deconstruction. Still, it's very interesting to hear what artists like Leafcutter John, Aus, Plaid, Isan, Proem, Offthesky (and many others) choose to do with the original material. And the (quite different) choices they make in their reworking, since every title returns in different remix-disguises more than once.
Having listened to Origamibiro's back catalogue first, their new album "Odham's Standard" is another logical step forward.
By now their trademark music (the strange deconstructed yet melodic, organic multi-instrumental ambient-electronica) feels familiar. But a new dimension is added: the concept of "supernatural aspects of audio and video material generation."
Unknown to each other, Jim Boxall had begun researching spirit photography ("where images of deceased spirits are apparently imprinted onto photographic plates trough the presence of a medium"), while Tom Hill had taken interest in Electronic Voice Processing (EVP – "whereby hidden voices of deceased spirits appear to present themselves in audio recordings").

In many other artists' hands this fascination would have resulted in dark, ominous and maybe even frightening sound material, but not in the case of Origamibiro – their spirits and presences are obviously happy ghosts.
Whatever their origins, the snaps, crackles, hiss and noises are not just mere embellishments, but functional additions to Origamibiro's enigmatic musical style.
(Release date Odham's Standard: februari 28)
Origamibiro – Tinder