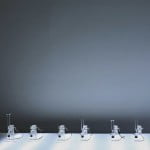 Sometimes, from the first opening seconds of an album it can be immediately clear that this one is different…
"This one is different…" was what I felt immediately after hearing the first notes of Nicolas Bernier's new album "Frequencies (a / Fragments)".
The album title is right on spot: these are frequencies indeed: razor sharp, often high-pitched, the perception changing whenever you move or even slightly turn your head.
From the album cover (and background information) we learn that we're actually listening to an installation recording of sounds from tuning forks that are activated by custom built computer-controlled solenoids.
"The resulting sound fragments, when articulated in conjunction with synthetic sound waves, create frictions between the acoustic and the electronic elements."
Works by Nicolas Bernier (Canada) have been featured at Prix Ars Electronica (where "Frequencies (a)" was awarded the Golden Nica for Digital Music and Sound Art in 2013), Sonar, Mutek, Transmediale, etcetera.
His albums are released on many different labels like Crónica, Home Normal, Ahornfelder, Empreïntes Digitales,and now also Line Imprint.
Currently he is undertaking a PhD in sonic arts at the University of Huddersfield (UK), but this does not mean his work is strictly academic:
"In the midst of this eclecticism, his artistic concerns remain constant: the balance between the cerebral and the sensual, and between organic sound sources and digital processing."
"Frequencies" is "an ongoing process focussing on basic sound generation systems", so the output of various instances of the installation can be very different from each other. Here's an example:
This video a good impression of what's going on at a "Frequencies" installation performance – but don't forget that the result is quite different (and quite a lot noisier) from that presented on"Frequencies (a / Fragments)" .
There, the soundscape develops slowly, and the frequencies interact much more calm and harmoniously – although they can be cutting sharp at the same time! Check the sample to get an impression:
Nicolas Bernier – Frequencies (a / fragments) (fragment)
For those interested:
a (quite different) recording of this installation was released in 2013 on Entr'Acte as "Frequencies (Synthetic Variations)"