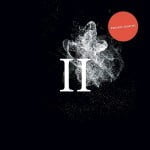 In 2008, no-one knew what to expect from this "Bersarin Quartett" and, although it received unmatched critical acclaim,  it has always been somewhat below the radar – a "cult" release that still deserves to find a much larger audience.
(Don't worry: it is still available as CD or digital download. A special limited 2 x 12″ vinyl picture disc edition can also be pre-ordered!)
Four years later, suddenly there's the follow up, the 'difficult second album' – simply named "II".
The big difference: this time we're prepared!  
Usually, it is exactly that what makes a second album so 'difficult'. Expectations are high – and in this case even sky-high!
But Bersarin Quartett "II" does not disappoint:  it lives up to the expectations, easily: the album is as beautiful and captivating as its predecessor.
Essentially, the Bersarin Quartett is just one man: Thomas Bücker (although he has performed live with two guest musicians in 2011).
Thomas has created a cinematic kind of music with a distinct personal trademark: "imaginary film scores" with references to Stars of the Lid, Max Richter, Johann Johannsson, as well as to the Cinematic Orchestra and the soundtrack music of Cliff Martinez. 
There's no doubt that this album will be on many's favourite lists. Including mine!
The kind of soundtrack that needs no movie.

Bersarin Quartett – Zum Greifen Nah

– (Also on Spotify)
[total: 1,300 - today: 1]