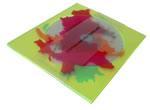 Holger Czukay always used to mention 'shortwave' (radio) in the instrument credits on his albums. The mysterious, vaguely distorted sound of shortwave radio has always seem to trigger the imagination of those interested in sounds of the unknown and unreachable.
Shortwave radio is a direct connection with uncharted territories. Its distortion and strange sweeping filter effects add another dimension to the radio broadcasts: the fleeting connection may be lost any moment. It's as if you're transferred through time and space to a world you did not know until then.
All of this magic gets lost when technology improves. The same stations may lose their attractivity when heard in full quality. They become part of normal everyday life (and then mostly prove to be as boring as the local stations).
In this time of world wide web global connectivity, where no place on earth seems out of reach, there's an enhancing interest in shortwave sounds. For example, take "A Ghost in the Phase", the latest in the series of the beautiful Low Light Mixes created by Dave Michuda. t's a collage of shortwave samples and ambient sounds of artists using shortwave samples. Haunting and definitely worth listening.
Some of the shortwave fragments in this mix can be found on the Shortwavemusic weblog, strictly dedicated to found shortwave sounds.
Also included in this low light mix is a track from the latest CD by Stephan Mathieu, Radioland ('Auf der Gasse', also included below).
Radioland really deserves your  full attention: all tracks are carefully crafted froms shortwave sounds and have a beautiful, otherworldly atmosphere. With titles like Raphael, Gabriel, Michael and Prolog im Himmel it feels like a direct connection with heaven: quiet, peaceful, mysterious.
The package should be noted too: unusual size, see-through plexiglas with beautifully coloured imaginary landscapes. The CD itself is vaguely transparent (which is quite unusual because a CD has to reflect the laser light).
Radioland is a very good starting point for those that want to explore the fascinating territories of shortwave-based music.
Maybe I should rephrase that…Radioland is recommended for everyone into drone ambient..even if you're not interested in the shortwave phenomena at all.
And from there, check out the Low Light Mixes. "A Ghost in the Phase" is the second shortwave mix (the first was 'A Drift in the Signal'). But in fact all (25!!) mixes on this blog are worth listening.