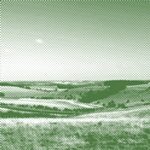 The musical worlds seem far apart, but still there's is a firm connection between (English) folk music roots and ambient drone music. (Just think of the drone of the bagpipe..)
This track is a beautiful reworking of the original Richard Thompson song (from "Henry the Human Fly, 1972"). Mark 'Uncertain Music Corps' Harrop revives this old time original and provides it with an ambient background that emotionally enhances the song and brings it back to life in a very contemporary way.
As UMC/Uncertain Music Corps, Mark Harrop has been actively experimenting with his "uncertain" music for quite some time now. Alongside Brian Eno, he was one of the very few persons that really mastered the SSeyo Koan Software and extended the boundaries of Generative Music.
This track was kindly donated by Mark 'Uncertain Music Corps' Harrop (mark[at]umcorps[dot]com) and is not (yet) available on any album.
As always, your reaction to this track will be greatly appreciated! You can post it using the comment link below.

Uncertain Music Corporation – Wheely Down
to download: right-click – Save Target As…