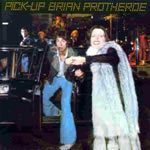 2005 celebrates the 30th birthday of a record that belongs to the few that I must have played hundreds of times when I was fairly young: Brian Protheroe's Pick Up (1975). Along with the preceding Pinball (1974) and the following I/You (1976), this album belongs to my all-time favourites.
When you hear these records now, it may be a bit difficult to hear why they did appeal to me so much then. But even nowadays the strong voice still sounds appealing, the tongue-in-cheekness of the lyrics still can bring on a smile. It's only some of the the arrangements that sound so very 70's, sometimes musical-like. (I hate musicals, by the way).
The performing scene clearly attracted Protheroe: after he quit recording albums he has continued his career as an actor and has been performing in numerous musicals. Check his CV on his website for details (by the way – this is by far the worst website I have seen in years!).
These albums records have been hard to find in their time , but they have been re-released on CD by Basta.