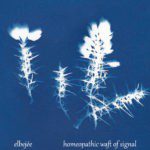 I'm not sure if the name Elbejée stands for something and whát it exactly stands for. Anyway: it's the name for the duo of Kathy Hinde (UK) and Gail Priest (Australia).
Homeopathic Waft of Signal is the duo's "debut album of improvisational explorations. recorded amongst rutting frogs and all watched over by feisty Shetland cows".
Their music came to life during a three-week residency ("in an architecturally designed eco-pod") in the Scottish Highlands, and presents a multitude of field recordings. But not exclusively: they are mixed with "synthesised bleeps, processed vocals, mechanised singing bowls, self-playing gongs, bird whistles, wind-up bugs, and bespoke vinyl" with dynamic and adventurous soundscapes as a result.
The three compositions (Ooo, Loréli and Aötebe – each 14 minutes in length) are well-balanced interactions "of the figurative and the abstract, the machinic and the organic, the sensual and the brutal".

If you're considering buying the CD-version of this album: both artists have it on their Bandcamp page. Gail Priest's link is best for customers in or near Australia, Kathy Hinde's link is preferred for UK (/European) customers. The rest of the world can choose what they like best.
---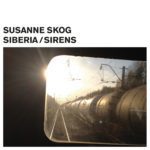 Also from Sweden is Susanne Skog, who delivers two striking compositions created from her own recordings:"sonic material which she turns into new shapes and expressions, frictions and correlations, often considering movements and spatialisation as a vital element."
Siberia is based on a (205 hour/9288 kilometer) train trip from Moscow to Vladivostok. Sirens is created from a large selection of siren recordings from all over the world: Tokyo, Naha/Okinawa, Hiroshima, New York, Athens, Rotterdam (and probably many more).
It's not Skog's intention to literally recreate the experience for the listener. The recordings are edited and layered in such a way that they become indistinguishable and create an entirely new sound experience. Siberia begins softly, but gradually intensifies to an inescapable level, an industrial drone where the sounds of trains are deeply hidden. Just when you begin to think this trip will never stop, the sound recedes and slowly comes to a halt again.

As can be expected considering its sound sources, Sirens is also not exactly intended as a soundtrack for your relaxation pleasures. This alarm is intended to alert the whole earth. But the sirens are 'anonimized' in such a way that they lose some of their alarming character and melt into a continuous drone. Here, too, adding layer after layer increases the intensity: the combined sirens become a blanket that covers the events – are those birds in the background? Traffic? Machines? Or even gunshots?
---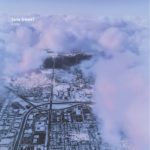 JANA IRMERT – CUSP
The soundscapes on this short (21 minute) album are taken from the soundtrack for Florian Baron's Stress, a documentary "giving voice to five young veterans, their experiences and trauma."
Not a light-hearted subject, and consequently not an 'easy' soundtrack: dark and ominous synths merging with environmental sounds constantly tell you to be on guard for things that are about to happen.

The soundtrack earned Jana Irmert the 2019 German Documentary Film Music Award – and rightly so. The jury statement praises the way she "dissolves the boundaries between sound design and musical composition in a virtuoso and at the same time self-evident way, thus creating a sound cosmos that, through uncompromising reduction, generates brutal knowledge."
After the well-deserved worldwide recognition of Hildur Gudnadottir's soundtrack works for Chernobyl and The Joker, it's good to realize that there is much more of this haunting beauty to be found for everyone that searches deeper.
Jana Irmert's Cusp is another great example of what very well could turn into a complete genre.
---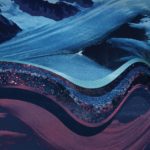 AKB are the initials of Anna-Karin Berglund from Gävle, Sweden. This is my first encounter with her music, but the has been releasing a few EP's since 2016 and a full album (Ambient Morning) in 2019 – all of these on the Swedish Lamour label.

Anna-Karin is fascinated with the ocean and its secrets: Marianergraven is the (Swedish translation of) the Mariana Trench near Japan and the Philippines, known as the deepest trench in the world (with a depth of 10,984 meters!).

Simply try to imagine "how the pressure and darkness of the depths may sound and evoke both a calmness and a breathtaking feeling of bottomlessly sinking into the darkness way down deep", and you may have an idea what AKB's music sounds like. Contrary to what you may expect, there are no (recognizable) field recordings here: the music is created "utilizing the electronic tonalities from syntheses, loops and effects."
Marianergraven is available as a CD as well as a (blue) vinyl version and as a download (different links). All versions include a bonus track; for the vinyl release, this is included on an extra (also blue) 7-inch.
AKB – SEDIMENTÄR