Taalem is a Paris-based label – "exploring the different sides of ambient music through 3" CD-R's and FLAC downloads – with a somewhat different release policy:
"As we're tired of all these ultra-limited & ultra-expensive releases, taâlem discs are unlimited editions. As long as the demand exists, every release is available." Some fine examples from their recent releases: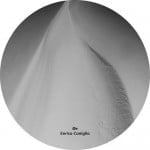 ∅E + ENRICO CONIGLIO – INNER FROST
21 Minutes (2 Tracks) of Glacial ambient created by ∅e (Fabio Perletta: guitar, loops) and Enrico Coniglio (guitar, field recordings, sampler).
The (december 2013) release was especially postponed because the music perfectly fits the winter season. The opening sounds of a harsh winter storm might give you some extra chills.
But in summer, this wide musical landscape full of fascinating details may help you cool down when desired!
---
YANNICK FRANCK – THE UTMOST NIGHT
Out of the cold, into the dark of night with Yannick Franck from Belgium. A single 24 minute industrial drone, merging electronics, drums, analog synths and vocals (?) with ambience recordings of naturally reverberated locations from Ghent's industrial harbour. Slowly evolving yet inevitable increasing in tension, the quiet start builds to a inescapable wall of noise.
---
TONE COLOR – TODAY WILL DIE TOMORROW
Compare this set of CD-R's and you'll understand what Taalem means by 'different sides of ambient music'.
Compared to the two releases mentioned before, Tone Color (Andy Lomas, from Manchester UK) presents a much warmer and less desolate sound. The six tracks on "Today Will Die Tomorrow" are created using guitar, field recordings and synth sounds, processed through max/msp to create a lovely comfortable atmosphere.