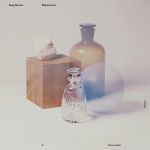 When the relatively short opening track from "Digressions" slowly fades into the second track, "Caden Cotard", an unexpected, jaw-dropping massiveness starts to build - a full orchestral sound that I did not expect to hear on this third Greg Haines album.

It's not 'loud', it's not 'noise' - it's beautifully restrained, but it's just...massive.

But then, within the same track, the intensity drops to a much quieter level to become much more intimate.
With this flow of tension and release, "Digressions" somehow compares to a post-rock album, however with a different instrumentation.
Musically, it feels more like it's a full classical symphony.