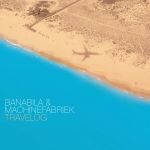 It took some time before Michel Banabila and Machinefabriek, both living in Rotterdam, finally met and started working together. But after the release of their first album, they soon decided there would be more like that.
Not just because their first CD was very well received critically, but also (probably even more) because their collaboration was so fruitful that the new ideas started to roll in soon, and simply begged to be continued.

So now, some 9 months after its predecessor, "Travelog" is presented.