In the Shortlist sections, I will mention the albums that I enjoyed listening to, but couldn't find the time (or the right words) for a "full" review for. Still, I definitely think they deserve your attention, with ór without extra words!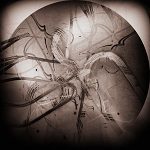 AUTISTICI - ATTACHING SOFTNESS
A collection of detailed microsound pieces including collaborative works with Calika and Henry Duclos. It includes the original full-length version of Attaching Softness to a Shell. About half of the (50 minute) album is reserved for the centerpiece "Attaching Softness to a Shell" (a track that also briefly appeared in the "Dream Calibration" mix from 2009).